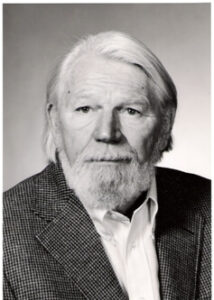 Ancient Mesoamerica In Memoriam
Dr. Sanders was one of the first archaeologists to attempt to make the discipline of archaeology a true science through the development of theories and the formation of testable hypotheses about culture. His approach, cultural ecology, considered the biology of an area, subsistence patterns of the human population, demography, technological innovation and social organization as an interacting whole.  The interrelationship between culture and the environment led to an approach that looked at the ecology of a location as the primary means of understanding its cultural development and his studies included settlement patterns of rural areas and small villages, land use, ethnographic approaches and ancient population patterns.
In the early 1960s, he began his first large project in the Basin of Mexico in the Valley of Teotithuacan.  This investigation of the rural valley around the ancient city of Teotithuacan was intended to trace the origin and history of developments in prehistoric agriculture, to define and chronicle rural and small urban community types during the prehistoric periods and to record the demographic history of the Valley from the earliest human occupation to the period of the Spanish Conquest.
In the early 1970s, Sanders worked in the Valley of Guatemala, excavating the city of Kaminaljuyu, a Trade center dating from 1000 B.C. to 800 A.D.   This archaeological site near Guatemala City was in danger of being lost to the encroachment of modern houses.  This five-year project included the use of computers to catalog and organize the vast amounts of artifacts collected.
From 1980 to 1990, Sanders, along with David L. Webster, worked on Phase II of the Copan Project, which focused on the city of Copan in western Honduras.  They conducted extensive field mapping and excavations in the area surrounding the city to determine the population and settlement history of the entire Copan region.  Sanders also studied modern land use and cropping patterns and residential architecture as a reflection on the past.
Born in Patchogue, N.Y. on April 19, 1926, he served in the U.S. Navy during World War II.  He received his B.A., M.A. and Ph.D. in Anthropology in 1949, 1953 and 1957 respectively, all from Harvard University.  He also attended the Escuela Nacional de Antropologia e Historia in Mexico City in 1951.  He was an assistant professor of anthropology at University of Mississippi beginning in 1956.  In 1959 he came to Penn State in 1959 as an assistant professor and became an associate professor in 1962.  He was named professor in 1966 and Evan Pugh Professor, Penn State's highest honor in 1985.  He retired from the university as Evan Pugh Professor Emeritus in 1993.  Sanders also taught at various times at the Escuela Nacional de Antropologia, Mexico City College, Universidad Nacional de Mexico and University of Cuzco, Peru.
The National Academy of Science named Sanders a member in 1985.  He was a member of Phi Beta Kappa.  In 1980, he received the A.V. Kidder Medal for Achievement in Mesoamerican Archaeology from the American Anthropological Association.  In 1984, he received Penn State's Faculty Scholar Medal for his study and reconstruction of Copan in western Honduras.
He is the author or coauthor of 25 books, reports or monographs and numerous book chapters and professional papers in English and Spanish.
Biography
Evan Pugh Professor Emeritus of Archaeological Anthropology
Tierra Y Agua (Soil and Water) A Study of the Ecological Factors in the Development of Meso-American Civilization
In 1961, William T. Sanders returned to the Teotihuacan Valley to film a documentary based on his dissertation research from the mid-1950's. "Land and Water: An Ecological Study of the Teotihuacan Valley of Mexico" records masonry dams, canals, contoured fields and stone terraces that make the alluvial plains arable. Some time is also given to documenting the many uses of maguey. But quite possibly the most impressive aspect of the film is the complete absence of urban sprawl in the early 1960s, an astonishing contrast for anyone who visits the area today.
Education
Ph.D. Harvard University 1957
Research Activities and Interests
Dr. Sanders' research focuses on Mesoamerica, especially the Valley of Mexico and the Maya of Copan, Honduras. His interest include ancient settlement patterns, cultural ecology, and cultural evolution, with special emphasis on the origin of complex societies. He has recently directed surveys and excavations of Mayan sites in the Copan Valley, Honduras.
Publications
Sander, W.T., J.R. Parsons, and R.S. Santley. 1979. The Basin of Mexico: Ecological Processes in the Evolution of a Civilization. Academic Press, New York.
Sanders, W.T. 1992. Ecology and cultural syncretism in 16th century Mesoamerica. American Antiquity, 66:172-90.
In Memoriam
April 19, 1926-July 2, 2008. Dr. William T. Sanders, 82, of Julian, passsed away Wednesday, July 2, 2008, at Mount Nittany Medical Center. He was born April 19, 1926, in Patchoque, Long Island, N.Y. He served in the U. S. Navy during World War II. He received his Ph.D. in anthropology with a focus in archaeology from Harvard University in 1957. Bill started his career at Penn State in 1959 and retired in 1993. During his career, he became a member of the National Academy of Science and an Evan Pugh Professor in 1985. In 1993, he was awarded the Evan Pugh Professor Emeritus. Even after his retirement, he continued to fulfill his passion for archaeology by contributing his knowledge through teachings, lectures and publications. He is survived by his wife, Lili; his three daughters, Lili, Kathleen and Theresa; his brother Gerald; his two sisters, Joan and Priscilla; eight grandchildren and three great-grandchildren. Words cannot express how much he will be missed by those whose lives he has touched. Friends and colleagues are invited to pay respects from 6 to 8 p.m. Tuesday, July 8, 2008, at his residence, 301 Five Springs Lane, Julian.