Our doctoral program prepares students for careers in archaeology, biological anthropology, and human ecology. We share a commitment to rigorous quantitative methods and empirical analysis, provide students with personally and professionally enriching field and laboratory experiences, and produce scholars who make a difference in society, both within and outside of academia.
We're very proud of our graduate students!
See what some of our former graduate students are doing now!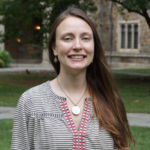 Dr. Abigail Bigham earned her PhD in Anthropology from Penn State in 2008. Following her graduation from Penn State, Abigail became a Senior Fellow…